Teaching Nineteenth-Century American Poetry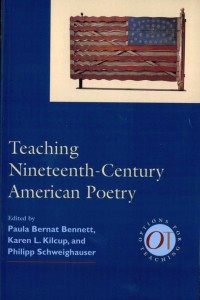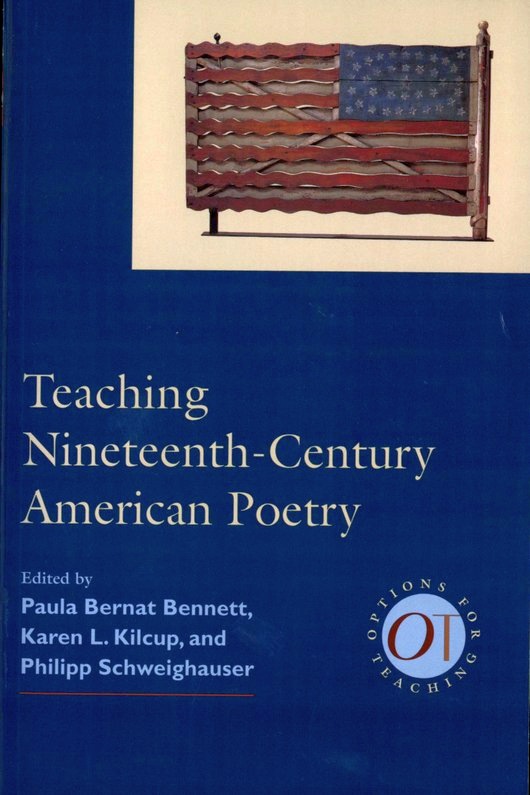 Twentieth-century modernism reduced the list of nineteenth-century American poets to Walt Whitman, Emily Dickinson, and (less often) Edgar Allan Poe. The rest were virtually forgotten. This volume in the MLA series Options for Teaching marks a milestone in the resurgence of the study of the rest. It features poets like Henry Wadsworth Longfellow and Lydia Huntley Sigourney, who were famous in their day, as well as those who were marginalized because of their race (Paul Laurence Dunbar, Alexander Posey) or their sociopolitical agenda (Emma Lazarus, John Greenleaf Whittier). It also takes a fresh look at poets whose work has been dismissed as sentimental (Frances Osgood), genteel (Oliver Wendell Holmes), or didactic (William Cullen Bryant).
This volume emblematizes nineteenth-century poetry's resurgence as an academic field, speaking to the long-neglected group of poets, like Longfellow and Whittier, who were taken as canonical in their own period, and those who were not–principally women and minority poets. In these essays American poetry reemerges as a quintessentially democratic form of social and political address, significant not only for its time but for our own.
>>>>>>>>>>>>>>>>>>>>>>>>>>>>>>>>>>>>>>>>>>>>>>>>>>>>>>>>>>>>>>>>>>>>>>>>>>>>>>>>>>>>>
"Teaching Nineteenth-Century American Poetry is a timely and valuable contribution to American studies. . . . [it has] effective and innovative selections designed to teach and mine the rich vein of American studies."
–"The Year's Work in English Studies (UK)
"Current and diverse, Teaching Nineteenth-Century American Poetry exposes readers to a wide variety of nineteenth-century poetry. . . . This book will be exceptionally useful to all poetry instructors who wish to engage students in a much larger discussion of what the nineteenth century encompasses."
—American Literary Realism
"The publication of Teaching Nineteenth-Century American Poetry underlines the growing interest in this field, and this collection will do much to encourage faculty to bring this rich spectrum of work into the classroom. . . . This important collection offers a wealth of timely suggestions, both practical and theoretical, involving not only ideas about specific writers and poems worth teaching, but also a host of thematic, formal, and political questions. . . . Teaching Nineteenth-Century American Poetry brings recent development in American studies into the classroom in ways that promise to be intellectually inspiring for both students and faculty."
—Legacy: A Journal of American Women Writers
"While this collection targets an academic audience, all readers interested in American history or poetry generally would benefit from a sampling of the essays here. There is much to be learned, relearned, and many acquaintances renewed with American poetry of the nineteenth century."
—Foreword Magazine
"Walt Whitman, Emily Dickinson, Edgar Allan Poe–the entirety of common knowledge for Americans of their nineteenth-century poets. Teaching Nineteenth-Century American Poetry is here to help teachers correct this practice by opening students' range from three to the dozens of other notable poets from that century. A broad look at these 'forgotten' poets, their poetry, their philosophy and ideas, it's a comprehensive guide on this era of the art and makes Teaching Nineteenth-Century American Poetry a must-have for any educator in charge of teaching the subject and for community library education collections."
—California Bookwatch