The Envious Lobster: A Collection of Nineteenth-Century American Children's Nature Writing, 1824-1924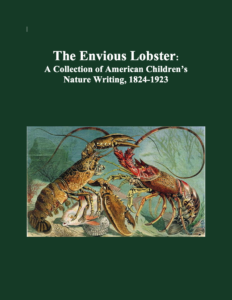 The Envious Lobster is an open-access, jointly edited collection of environmental writing and nature writing for children–and for scholars, teachers, students, parents, and caregivers. The project began around 2010, when I was finishing Fallen Forests; it expanded with a group of energetic graduate students in my Literature and the Environment seminar and continued with the 2020 editorial group: Jessica Abell, Abby Army, Josh Benjamin, Kristina Bowers, Catherine Bowlin, Kate Burt, Jess Cory, Celia Hawley, Maggie Kelly, Ian McLaughlin, and Will Smith. Josh continues as Associate Editor of the project, which currently has around 170 pages, most of which are still in development (and many of which are not yet public). My hope is that the site will continuously improve and expand.
The UNCG Libraries for a 2020-2021 Digital Partners Grant supporting this project. I am deeply grateful to the library team that helped bring it to life: Richard Cox, our Digital Technology Consultant; Jenny Dale, Information Literacy Coordinator and Associate Professor; and Maggie Murphy, Visual Art & Humanities Librarian and Assistant Professor.
Please send comments and suggestions concerning the project to klkilcup@uncg.edu.
© 2021 Karen L. Kilcup. All rights reserved.