Soft Canons: American Women Writers and Masculine Tradition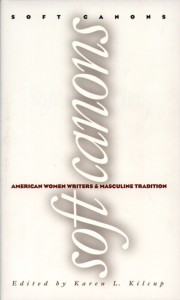 By segregating discussions of male and female writers, scholars have offered a myopic view of American literary tradition. Soft Canons: American Women Writers and Masculine Tradition remedies that shortsightedness, modeling a reintegrated critical practice that enriches readers' understanding of canonical and unfamiliar texts by both men and women.
Reading across lines of race, class, and history as well as gender, the essays in Soft Canons place into dialogue such figures as Lydia Maria Child, James Fenimore Cooper, and Catharine Maria Sedgwick; Frances E. W. Harper and William Dean Howells; William Wells Brown and Harriet Wilson; Edith Wharton and Theodore Dreiser; and Fanny Fern and Nathaniel Hawthorne. Kilcup's introductory essay frames these "conversations," illuminating how the interactions of gender, politics, and aesthetics have often converged to ensure women's exclusion from canonicity.
An indispensible collection for students and scholars, Soft Canons showcases the excellent work of European scholars, offering a unique perspective on the "canon wars" while dismantling traditional interpretive barriers.
>>>>>>>>>>>>>>>>>>>>>>>>>>>>>>>>>>>>>>>>>>>>>>>>>>>>>>>>>>>>>>>>>>>>>>>>>>>>>>>>>>>>>
"Editor Karen L. Kilcup is to be congratulated for bringing together this stellar collection of sixteen essays that re-examine the tradition of creating separate male and female canons in American literature. . . . These essays ask pertinent questions of their subject matters and display a uniform fluency with literary genealogies and both recent and now classic critical works."
—Women's Studies
"An impressive collection of essays that explore the important interaction between male and female authors in nineteenth-century America."
—American Literary Scholarship
"Soft Canons incorporates the rich, diverse female literary tradition Kilcup has done so much to recover into a truly integrated critical practice. This wide-ranging collection not only breaks down multiple separate spheres–'feminine' and 'masculine,' black and white, straight and gay, 'aesthetic' and 'political,' American and European–but demonstrates the benefits of comparative study."
–Carolyn L. Karcher
"A superb comparative study of U.S. women's writings and the 'masculine tradition' within and against which they shaped their literary productions. The collection is notable for its attention to race and gender issues from new and provocative perspectives. Kilcup has brought together a rich array of international scholars whose contributions necessitate nothing less than a rethinking of nineteenth-century American literature as a whole."
–Sharon M. Harris
"Soft Canons constitutes an invaluable resource to the literary and historical scholar, as well-chosen material provides a useful interpretative framework for exploding critical understanding of a bifurcated American heritage."
—Journal of American Studies (UK)
"Soft Canons makes a powerful contribution to a debate about American identity, in which both men and women are shown to have contributed to a discourse which converged in central whole-cultural themes."
—The Year's Work in English Studies (UK)
"American literary critics and theorists have begun to reexamine the division of nineteenth-century literature into male and female traditions. Soft Canons is an important contribution to this project."
—American Literature
"The works in this collection are provocative.  In addition to its contribution to scholarly debates about canonization, Soft Canons is a valuable source for multicultural pedagogy. . . . All the essays are complex without being unnecessarily dense, making them suitable for advanced undergraduate or graduate students. . . . The very presence of these diverse and thoughtful essays reminds us of how much work remains to be done. . . . [I]n the case of many authors explored in this anthology, the lack of 'hard evidence' should serve as a call to additional unglamorous and underfunded archival and recovery work, work that (as Kilcup notes in her Introduction) ushered in our present new era of gender criticism, an era so skillfully demonstrated in this collection."
—Legacy: A Journal of American Women Writers
"Individually, the essays are insightful and strong; collectively, they highlight the vibrancy of current research on nineteenth-century American women writers in particular and nineteenth-century American literature in general. In its coverage of a wide range of works, Soft Canons would be an ideal critical companion for upper-level undergraduate or graduate courses. For scholars working in the field, it clearly and successfully showcases a range of approaches, an impressive diversity of texts, and the significant accomplishment of critics working outside the United States."
—symplok
ē