Jewett and Her Contemporaries: Reshaping the Canon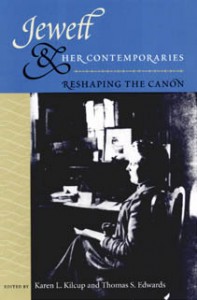 Willa Cather regarded Sarah Orne Jewett as one of America's essential writers along with Mark Twain and Nathaniel Hawthorne, yet the later twentieth century saw Jewett's reputation diminish to the status of local colorist. Jewett and Her Contemporaries: Reshaping the Canon reestablishes the writer as indispensible for comprehending fin-de-siècle American literature and culture.
Offering innovative perspectives on Jewett's wide-ranging perspective, the authors demonstrate her importance to writers that include William Dean Howells, Edith Wharton, and Cather herself. They also illuminate her contributions to conversations on such subjects as transcendentalism and ecofeminism, social class disparities, sexual and racial identity, the conceptualization of childhood, local and national identity, and author-reader relations at the end of the nineteenth century.
Jewett and Her Contemporaries reveals a writer fully engaged with her time and place whose work merits renewed attention, appreciation and admiration for its continuing resonance.
>>>>>>>>>>>>>>>>>>>>>>>>>>>>>>>>>>>>>>>>>>>>>>>>>>>>>>>>>>>>>>>>>>>>>>>>>>>>>>>>>>>>>
"In its overall conceptualization and range of theoretical approaches, Jewett and Her Contemporaries exemplifies the most fruitful current trends in American literary scholarship. . . . provide[s] generative models of new reading practices and new methodologies."
—College Literature
"By applying methods of postcolonialism with its emphasis on race and ethnicity, of feminism (gender), and of sociology (class), and by pointing out their cross-references and intersections, this volume deserves a place in contemporary criticism of the highest quality."
—Amerikastudien (Germany)
"The complexity of connection in Jewett's life and writing offers the most promising path for the future of Jewett studies. Jewett and Her Contemporaries suggests just how promising this future is."
—Legacy: A Journal of American Women Writers
"[An] excellent collection. . . . More than an assemblage around a topic, or even a timely updating, the careful reframing of the issues of Jewett scholarship . . . make[s] Jewett and Her Contemporaries a book that illuminates and fosters the continual evolution of feminist criticism.  Well-written and well-edited, it should appeal to both scholars and students of Sarah Orne Jewett."
—American Literary Realism
>>>>>>>>>>>>>>>>>>>>>>>>>>>>>>>>>>>>>>>>>>>>>>>>>>>>>>>>>>>>>>>>>>>>>>>>>>>>>>>>>>>>>